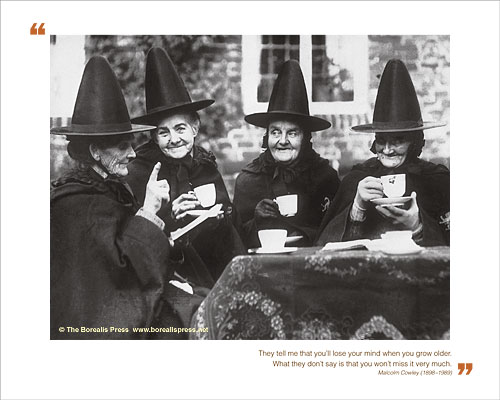 Poster 163
They tell me that you'll lose your mind when you grow older. What they don't tell you is that you won't miss it very much.
8 x 10 inch poster, printed on heavy recycled and chlorine-free stock
The ladies in this 1929 photograph were residents of The Hospital of the Holy and Undivided Trinity, in Castle Rising, Norfolk, England. Founded in 1614 by Henry Howard, Earl of Northampton, the institution was an almshouse that was deeded to provide for the care of twelve gentlewomen in need.
There is no getting around it, the scene appears to be a witches' tea party; but, the ladies are dressed in the traditional costume of their home: a red wool cloak adorned with the badge of the Howard family and a chimney-pot beaver hat of the Jacobean era. This costume is still being worn at the Holy and Undivided Trinity in the twenty-first century (at least, on Founder's Day.)
Borealis Press Card Details:
5x7 greeting card with envelope. Made in USA. Vegetable inks on acid-free, recycled, chlorine-free paper, which produces no dioxins in the mill waste. Safe press wash eliminates the most toxic part of printing. Printed using wind-generated electric power.
Cost each: $3.00
Unit size: 1 Poster