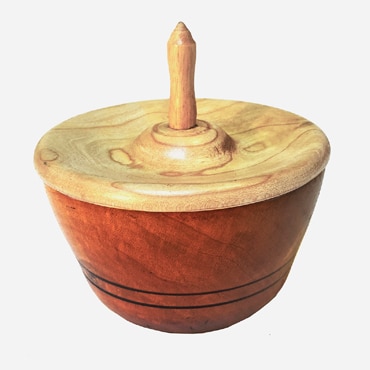 T-003 - Lidded Bowl - SOLD
- SOLD
(Not a propeller)
Old cherry with a new cherry lid.
Bowl is 4½″ x 2½″ $90
Mark Baldwin, Surry Maine

In 1915 cherry logs were hauled across Maine's Green Lake for WWI airplane propellers. The ice broke and logs stayed on the bottom until Spud Davis and Gene King came home from WWII and salvaged them for their new Associated Builders in Ellsworth. I worked for Gene in the early 1970s and when I left he gave me the remaining planks too cracked and wormy for commercial use. This bowl is one of a few small pieces left of the would-be propeller wood. There are a couple of what we call worm tracks on the side and bottom, but really they are the exit holes from a small beetle that was born and came to maturity inside the log.
We think of this as a Butter Bowl, but we won't take it back if you use it for something else.
Borealis Press Card Details:
5x7 greeting card with envelope. Made in USA. Vegetable inks on acid-free, recycled, chlorine-free paper, which produces no dioxins in the mill waste. Safe press wash eliminates the most toxic part of printing. Printed using wind-generated electric power.
Cost each: $90.00
Unit size: One of a kind