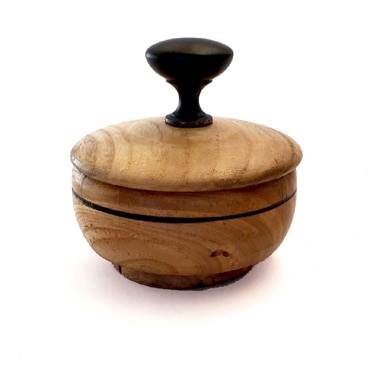 T-023 - Lidded Table Salt Cellar - SOLD
- SOLD
Hackberry
Bowl 3″ x 3″ including lid. $34
Mark Baldwin, Surry Maine

There are plenty of less than $20 salt cellars on the market usually a hole drilled in a piece of wood, plastic, or marble with a stopper. This one doesn't work any better though it's easier to pinch the last bit from a rounded bottom than a flat one. This one comes with flaws, or interesting points, depending on how you see it. The little indented wiggles are where an adolescent powder post beetle chewed its way out of the tree when it was big enough find a mate and plant new eggs. The tracks are well sealed now, just a memento of a fellow inhabitant.
Borealis Press Card Details:
5x7 greeting card with envelope. Made in USA. Vegetable inks on acid-free, recycled, chlorine-free paper, which produces no dioxins in the mill waste. Safe press wash eliminates the most toxic part of printing. Printed using wind-generated electric power.
Cost each: $34.00
Unit size: One of a kind