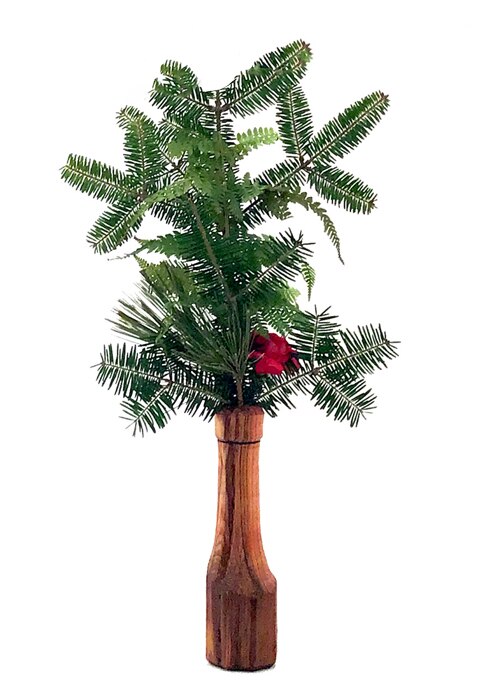 T-034 - Old Pine Dry Vase - SOLD
- SOLD
2″ x 7″ $45.
Mark Baldwin, Surry Maine

Today about the only source of treasured old growth southern pine is reclaimed wood from old structures or logs dredged from bogs. The wood might be from two to several hundred or more years old. It lasts because it has so much resin which, in turn, means that sanding never gives as good a finish as a sharp cut. This came from a 19th century convent, probably taken down in the early 1950s. Timbers were piled in a swampy field until the 1970s when a friend and I found and salvaged it to build a house on Maine's Morgan Bay. This is from a left-over piece. The turning, as you can see, is asymmetrical with a hexagonal base. The wood has no finish other than the tree's resin.
Borealis Press Card Details:
5x7 greeting card with envelope. Made in USA. Vegetable inks on acid-free, recycled, chlorine-free paper, which produces no dioxins in the mill waste. Safe press wash eliminates the most toxic part of printing. Printed using wind-generated electric power.
Cost each: $45.00
Unit size: One of a kind