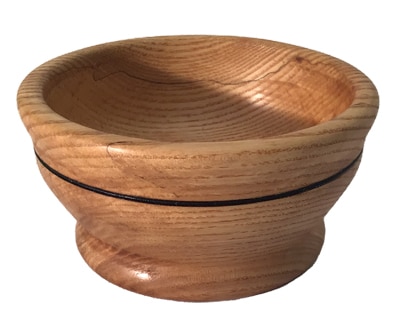 T-055 - Small Ash Footed Bowl - SOLD
- SOLD
White Ash with a bit of spalting.
4¼″ x 2¼″ $24.
Mark Baldwin, Surry Maine

Pass the chutney please – or guacamole, or whipped cream, or butter, or any condiment that pleases your table.
Outside of the bowl finished with heat-rubbed tung oil. Inside finished with edible walnut oil.

Is it interesting to know that this piece started with an ash fallen in the Penobscot Maine woods? Cut off and split a chunk, plane one side flat enough to mount on the lathe, and presto (almost) your bowl. Why not $40 Because as we speak I am warming myself with the off-cuts and shavings in the woodstove, and it warms me to imagine your hospitality.
Borealis Press Card Details:
5x7 greeting card with envelope. Made in USA. Vegetable inks on acid-free, recycled, chlorine-free paper, which produces no dioxins in the mill waste. Safe press wash eliminates the most toxic part of printing. Printed using wind-generated electric power.
Cost each: $24.00
Unit size: One of a kind