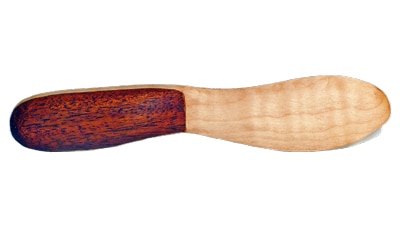 T-052 - Carved Spreader Knife - SOLD
- SOLD
Fiddleback rock maple and mahogany. 5½″ x 1½″ $32.
Mark Baldwin, Surry Maine

The edge, sharp enough for anything spreadable, goes all around the blade. Finish is walnut oil, good stuff for eating and finishing. Boiled linseed oil tung oil and mineral oil are good food-safe substitutes to keep utensils bright. The blade comes from a bunch of firewood split while looking for the fiddleback grain. The mahogany is culled from the off-cuts in my son Andrew's cabinet shop – infinitely tidier than mine.
Borealis Press Card Details:
5x7 greeting card with envelope. Made in USA. Vegetable inks on acid-free, recycled, chlorine-free paper, which produces no dioxins in the mill waste. Safe press wash eliminates the most toxic part of printing. Printed using wind-generated electric power.
Cost each: $32.00
Unit size: One of a kind