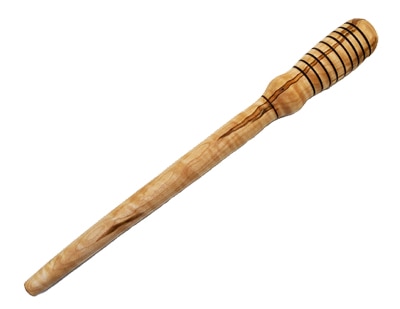 T-060 - Fiddleback Spurtle - SOLD
- SOLD
Spalted rock maple with flddleback grain.
12½″ x 1½″ $45.
Mark Baldwin, Surry Maine

I never heard of a porridge stick until I read Haldor Laxness' Independent People. In that Nobel Prize novel from Iceland the crofter's porridge stick was long enough to lean on the wall and a boy thought it was alive. The Scots have called it a spurtle for over six hundred years. They knew that the tapered round shape was best for stirring a pot of almost anything partly because the small end can wipe around a pot's inside corners. Lest modern Scots forget their history (fat chance) the annual World Porridge Making Championship awards the Golden Spurtle to the year's best maker of traditional porridge.

Borealis Press Card Details:
5x7 greeting card with envelope. Made in USA. Vegetable inks on acid-free, recycled, chlorine-free paper, which produces no dioxins in the mill waste. Safe press wash eliminates the most toxic part of printing. Printed using wind-generated electric power.
Cost each: $45.00
Unit size: One of a kind