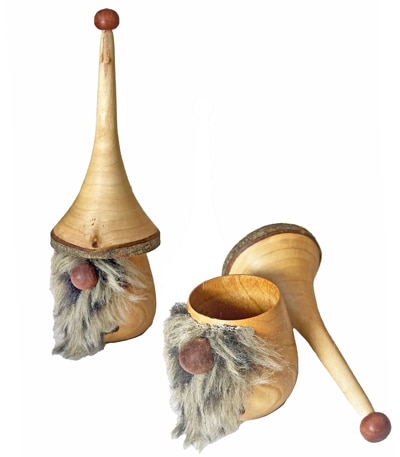 T-068 - Gnome Guard Box - SOLD
- SOLD
See description for materials.
6″ x 2″ $54.
Temple Blackwood, Castine Maine

Approximately for always the Sami people of far northern Norway have kept secrets that were important but small, so they were easy to carry as the people travelled their beautiful land with their reindeer. The secrets needed to be protected the way only gnomes can protect a secret.
This is not an ancient Sami gnomegard but Temple Blackwood has crafted it for us using the wisdom of his own beard. Materials are cherry, maple, pink ivory wood, and the tip of an elderly ulv (wolf) tail, which the ulv donated to help protect the secrets. Temple, whose great great etc. grandfather was Samisk Hemmeligheter, is not saying where he got the ulvehale. For more information contact HistoryDepartment@BorealisPress.net, or the cultural desk of the Embassy of Norway, 2720 34th Street NW, Washington DC 20008, USA.
Borealis Press Card Details:
5x7 greeting card with envelope. Made in USA. Vegetable inks on acid-free, recycled, chlorine-free paper, which produces no dioxins in the mill waste. Safe press wash eliminates the most toxic part of printing. Printed using wind-generated electric power.
Cost each: $54.00
Unit size: One of a kind