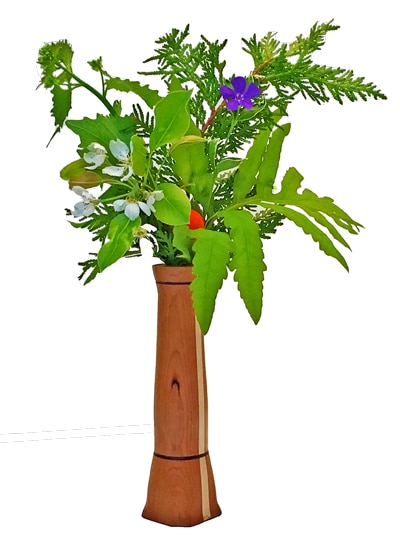 T-082 - Cherry and Maple Dry Vase - SOLD
- SOLD
7″ x  2″                  Cherry and maple                  $28.   
Mark Baldwin, Surry Maine  
 
This vase is similar to T-073, which was sold. Here's a comment from a customer that we quoted with # 073: 
"Before visiting my mother in her assisted living apartment I walk the edges of the parking lot and the runoff pond for bits of green and twigs for her dry vase. She changes the display every morning and admires it for the rest of the day. Her neighbor says, 'She won't tell me where I can get one.' My mother can be a bit mouthy so I don't butt in, but if she ever does share the secret please have a selection on hand."
  These "dry" vases may be used for twigs or other interesting dry arrangements or for greens that may have to be changed every day. They will hold a small amount of water if you like.
Borealis Press Card Details:
5x7 greeting card with envelope. Made in USA. Vegetable inks on acid-free, recycled, chlorine-free paper, which produces no dioxins in the mill waste. Safe press wash eliminates the most toxic part of printing. Printed using wind-generated electric power.
Cost each: $28.00
Unit size: One of a kind