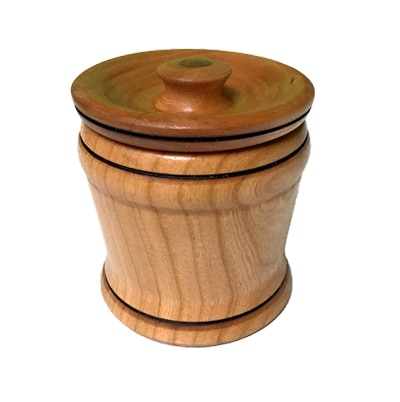 T-091 - Turned Box
Choke cherry with black cherry lid
3¼″ diameter x 3¾″ tall                          $68.     
Mark Baldwin,  Surry Maine


Choke cherry is a small tree, usually not more than six to eight inches diameter. This one grew to 18" diameter by the banks of Emerton marsh before it started to die about 25 years ago and finally toppled over and hung up in a nearby maple. The is the first piece from it after cutting away a lot of wood too far gone to turn. The lid is black cherry, a larger tree whose wood is common for cabinet work, probably from Pennsylvania.
 
But what about the box? You'll find a good use – perhaps sugar, or a cosmetic cream, assorted buttons, or for sampling malt balls one at a time. OK, two.
Borealis Press Card Details:
5x7 greeting card with envelope. Made in USA. Vegetable inks on acid-free, recycled, chlorine-free paper, which produces no dioxins in the mill waste. Safe press wash eliminates the most toxic part of printing. Printed using wind-generated electric power.
Cost each: $68.00
Unit size: One of a kind