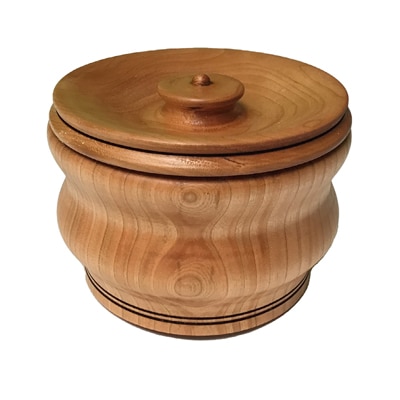 T-093 - Lidded Choke Cherry Serving Bowl
Choke cherry with a teak highlight on the lid  
6″ x 4¼″   
Mark Baldwin, Surry Maine                    $88
The bowl holds about two-and-a-half cups. The insulating wood and the lid helps keep your offering warm or cool, whether it's your unique mashed potatoes, bread pudding with cranberries, cottage cheese scrambled eggs, whipped cream, or ice cream for the à la mode, or (of course) malt balls.
Choke cherry (Prunus virginiana), usually grows to only 6″ or 8″ diameter. This one grew to about 18″ thick in our yard on the banks of Emerton Brook (google), until it started to die over 25 years ago. We watched it age with us until it finally let go. 
Borealis Press Card Details:
5x7 greeting card with envelope. Made in USA. Vegetable inks on acid-free, recycled, chlorine-free paper, which produces no dioxins in the mill waste. Safe press wash eliminates the most toxic part of printing. Printed using wind-generated electric power.
Cost each: $88.00
Unit size: One of a kind