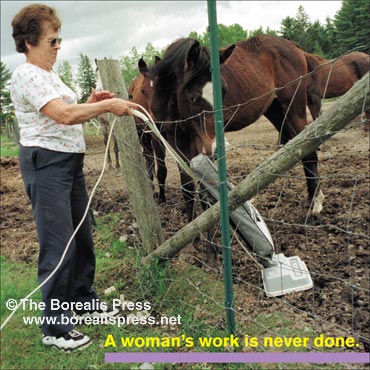 Magnet 240 - was $5.25, now $2.50
A woman's work is never done.
Photo: Mark M. Baldwin
Magnets are 3.5 x 3.5 inches, very nicely produced, and put up in crystal-clear sleeves.
Pauline used to pack our cards. She's an old-time Maine woman, who has cooked in logging camps, packed in the fish plant, gardened, fished, cleaned houses – and has done a swell job of taking care of herself and her family. Now Pauline spends as much time as possible in her camp in the woods north of Bangor. This photo is a set-up, of course. When I told Pauline that Mr. Oreck (of the vacuum cleaners) ordered 100 of the cards, she said, "Now why would he want a picture of me?"
Borealis Press Card Details:
5x7 greeting card with envelope. Made in USA. Vegetable inks on acid-free, recycled, chlorine-free paper, which produces no dioxins in the mill waste. Safe press wash eliminates the most toxic part of printing. Printed using wind-generated electric power.
Cost each: $2.50
Unit size: 1 Magnet