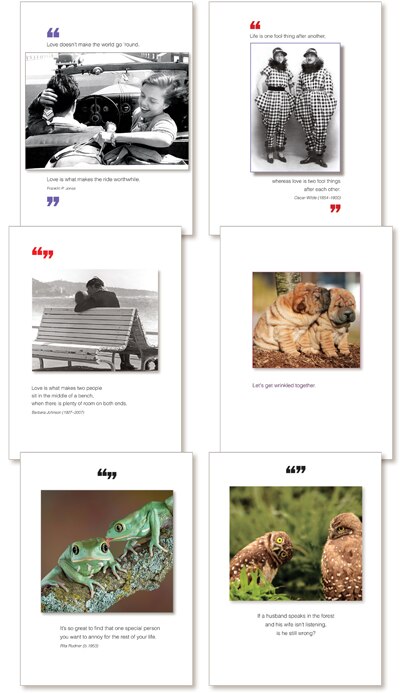 Anniversary Card Set Z4001AN -
was $19.35, now $15.00 (over 20% off)

Six Pre-Assorted Anniversary Cards
Anniversary pack of 6 – includes these designs 
(no substitutions): 
98AN - Love doesn't make the world go 'round. Love is what makes the ride worthwhile.
569AN - Life is one fool thing after another, whereas love is two fool things after each other.
851AN - Love is what makes two people sit in the middle of a bench, when there is plenty of room on both ends.
861AN - Let's get wrinkled together.
1065AN - It's so great to find that one special person you want to annoy for the rest of your life.
1118AN - If  husband speaks in the forest and his wife isn't listening, is he still wrong?
Borealis Press Card Details:
5x7 greeting card with envelope. Made in USA. Vegetable inks on acid-free, recycled, chlorine-free paper, which produces no dioxins in the mill waste. Safe press wash eliminates the most toxic part of printing. Printed using wind-generated electric power.
Cost each: $15.00
Unit size: 6 assorted cards with envelopes