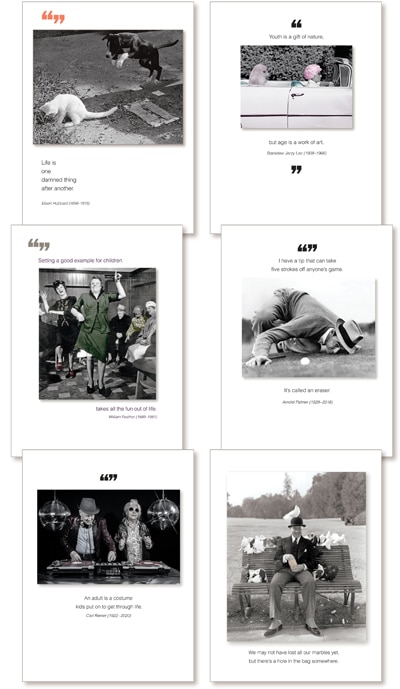 Birthday/All Occasion Card Set Z4003BA -
was $19.35, now $15.00 (over 20% off)

Six Pre-Assorted Birthday/All Occasion Cards
Birthday/All Occasion assorted pack of 6 – includes
these designs (no substitutions):
374HBa - Life is one damned thing after another.
1079HBa - Youth is a gift of nature, but age is a work of art.
1082HBa - Setting a good example for children takes all the fun out of life.
1116HBa - I have a tip that can take five strokes of anyone's game. It's called an eraser.
1123HBa - An adult is a costume kids put on to get through life.
1141HBb - We may not have lost all our marbles yet, but there's a hole in the bag somewhere.

Borealis Press Card Details:
5x7 greeting card with envelope. Made in USA. Vegetable inks on acid-free, recycled, chlorine-free paper, which produces no dioxins in the mill waste. Safe press wash eliminates the most toxic part of printing. Printed using wind-generated electric power.
Cost each: $15.00
Unit size: 6 assorted cards with envelopes