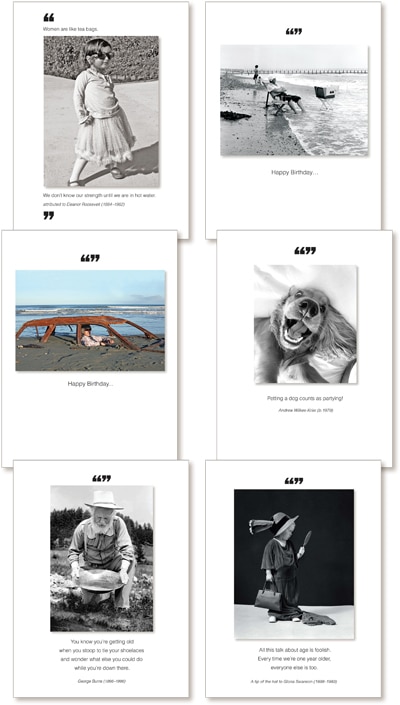 Funny Birthday Card Set Z4012BF -
was $19.35, now $15.00 (over 20% off)

Six Pre-Assorted Funny Birthday Cards
Funny Birthday Card assorted pack of 6 – includes these designs
(no substitutions):
671a - Women are like tea bags. We don't know our strength until we are in hot water.
1107HBa - Someday they're going to call you "Ma'am," without adding "you're making a scene."
1111HBa - Happy Birthday… (inside) …we've been trying to reach you regarding your extended warranty.
1134HBa - Petting a dog counts as partying!
1149HBb - You know you're getting old when you stoop to tie your shoelaces and wonder what else you could do while you're down there.
1150HBb - All this talk about age is foolish. Every time we're one year older, everyone else is too.

Borealis Press Card Details:
5x7 greeting card with envelope. Made in USA. Vegetable inks on acid-free, recycled, chlorine-free paper, which produces no dioxins in the mill waste. Safe press wash eliminates the most toxic part of printing. Printed using wind-generated electric power.
Cost each: $15.00
Unit size: 6 assorted cards with envelopes