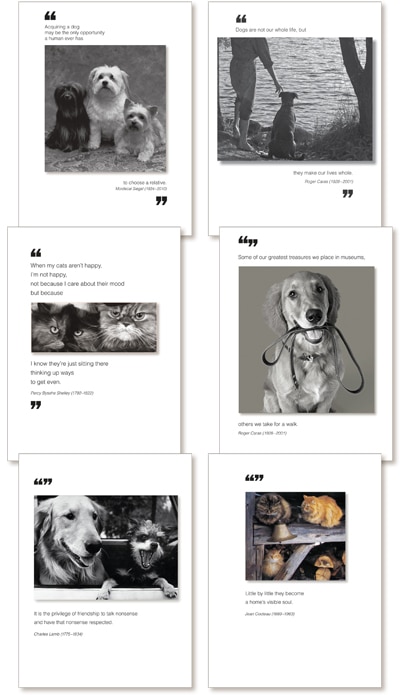 Pet All Occasion Card Set Z4005AP -
was $19.35, now $15.00 (over 20% off)

Six Pre-Assorted Pet/All Occasion Cards
Pet All Occasion assorted pack of 6 – includes these designs
(no substitutions):
41a - Acquiring a dog may be the only opportunity a human ever has to choose a relative.
527a - Dogs are not our whole life, but they make our lives whole.
744a - When my cats aren't happy, I'm not happy, not because I care about their mood but because I know they're just sitting there thinking up ways to get even.
7034a - Some of our greatest treasures we place in museums, others we take for a walk.
7087a - It is the privilege of friendship to talk nonsense and have that nonsense respected.
7090b - Little by little they become a home's visible soul.
Borealis Press Card Details:
5x7 greeting card with envelope. Made in USA. Vegetable inks on acid-free, recycled, chlorine-free paper, which produces no dioxins in the mill waste. Safe press wash eliminates the most toxic part of printing. Printed using wind-generated electric power.
Cost each: $15.00
Unit size: 6 assorted cards with envelopes